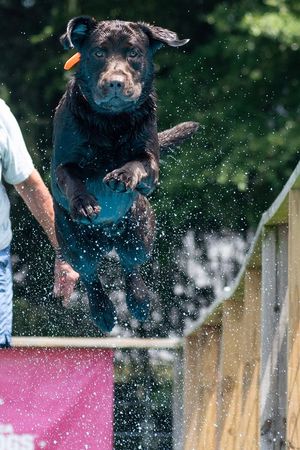 AKC CH UKC GRCH Big Sky's Sonic Boom at Balewater JH, TKN, CGCA, DSA, DJ;
UKC SPOT, DSC
MAVERICK
Born: May 11, 2019
Pure for Chocolate
Dilute Free
PROVEN STUD
*Available fresh, chilled and frozen stud services to approved bitches*
Maverick's Kids (under construction)
We are proud of Maverick at Balewater Labradors. We are honored and blessed to have this wonderful boy from Big Sky Labradors. Maverick is very athletic, full of drive and personality. MavE, to his friends and family, shows himself in the ring with confidence and pride. Maverick has spent the last year as a Junior Handler dog in both UKC and AKC. The team finished #8 in the country for UKC. Maverick will finish his AKC Grand and will pursue other titles including tracking, nosework, his excellence title in dock diving and his senior hunting title.
Clearances by Testing
DM Degenerative Myelopathy - Clear SD2 Skeletal Dysplasia 2 - Clear
CNM Centronuclear Myopathy - Clear EIC Exercised-Induced Collapse - Clear
HNPK Hereditary Nasal Parakeratosis - Clear
PRA/PRCD Progressive Retina Atrophy, Progressive Rod-Cone Degeneration - Clear
RD/OSD Retinal Dysplasia/Oculoskeletal Dysplasia 1 - Clear
MLPH D Lotus (Dilute) DD – non dilute  
OFA Hips Good
OFA Elbows Normal
Heart NORMAL AO/CONG, AUSC/ECHO
Eyes Normal
All Balewater Labradors are tested for the dilute gene. We are 100% dilute free.
Pedigree (under construction)
Pictures (under construction)